"Think of your business like a tree. What is a tree doing all the time? It's growing. And if it's not growing,
what is it doing? It's dying. Your business is the same: if it's not growing, it's dying."
I made this statement to a <2,000ac farmer at Canada's Farm Progress Show in June 2014. He gave his
head a quarter turn with the slight tilt that indicated he thought I was nuts. Remember, this was still in
the period where Main Street of many small towns looked like a drag strip when word got out that there
was land for sale. Farm trucks from all over the area were burning rubber to get to the banker as fast
they could to get the loan and make the deal before anyone else. It was a period of "growth at all costs."
His reply was, "I don't want to grow. I'm happy with my land base as it is. My debts are almost gone,
why would I want to get back into debt? Then I've got to buy more equipment, hire some help!"
So I quantified my statement. "Growth doesn't have to mean acres. There are many ways a business can
grow. If a farm can increase gross margins from better marketing, isn't that growth? If a farm can
increase profits from better awareness of cost control and management of those costs, isn't that
growth?" Reluctantly, he agreed.
Ever since the boom in ag took hold in 2007, farmers have increased acres and increased equipment
lines faster than ever. The truth of that statement can be read in the smile of every farm realtor and
farm equipment salesperson on the prairie. But why when we think of "growth" do we limit the scope of
our thinking to "size?"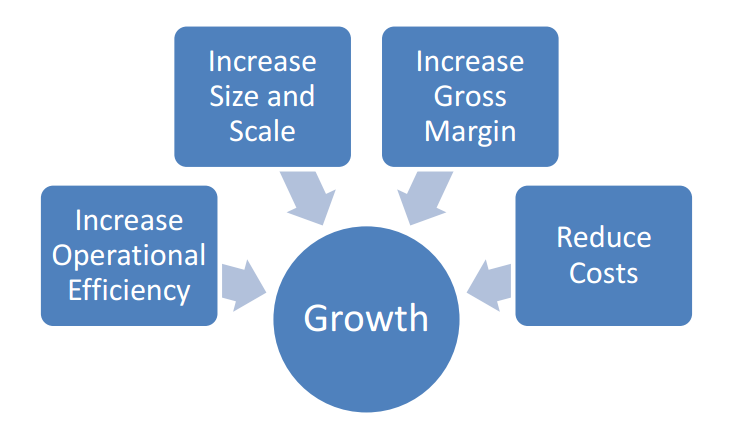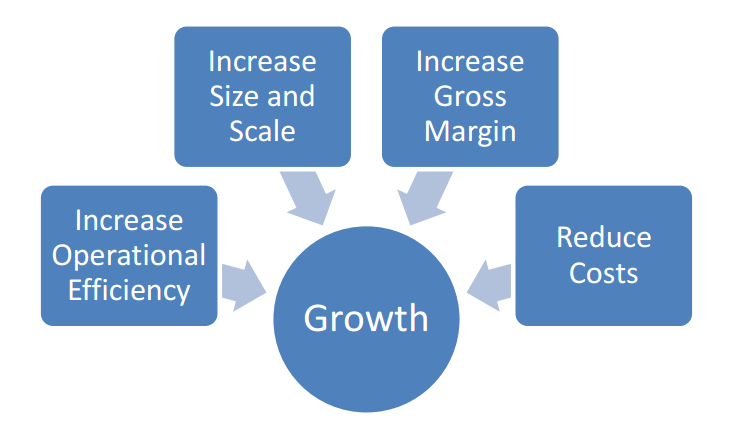 Increase Operational Efficiency
This is purely process management. How can you make improvements to processes on your farm that
will increase overall efficiency? For example, on our farm we run a single shoot drill. In order to apply
the volumes of fertilizer that our agronomic plan requires, we need to cover the entire farm twice: once
with a fertilizer blend in a band, and a second pass with seed & the fertilizer blend for the seed row.
Increasing operational efficiency for us could be trading up for a double shoot drill (although I'd prefer a
triple shoot), using a larger cart to reduce the frequency of stopping to fill, add a liquid kit to the existing
drill, or even utilize the high clearance sprayer to apply liquid fertilizer later in the growing season. There
are more options, but you get the drift. Naturally, each option has pros & cons and must be evaluated
from a management perspective to measure cost versus benefit.
Increase Size and Scale
Bigger is better, right? Not always. Are you confident that your net profit per acre is linear? What I mean
by that is, if you currently enjoy a net profit of $75/ac on your 3,000ac, will your net profit per acre
change if you increase to 6,000ac? 7,500ac? 10,000ac? The answer is Yes, it will change. Net profit per
acre is not linear and if you haven't created realistic and honest projections when considering scaling up
your farm size, you might be surprised at the end of the year.
I often get asked by people who grew up on small farms in the 60's and 70's about farm size and just
"how big is too big" when it comes to farming in current environment. Is it 5,000ac, 10,000ac, more? I
always answer the same way, "I can tell you exactly when a farm is too big. It's the moment that a farm
has expanded beyond the owner's management capability. For some that's 400ac, for others that
40,000ac. It depends."
Increase Gross Margin
This one is easy to identify, but not always easy to do. Easy to identify because this is where profitability
on your farm begins. Not always easy to do because there are many factors out of your control. But as
you'll recall from Growing Farm Profits Weekly Issue #2, I won't dwell on what we can't control.
Focusing on what we can't control is passive and it concedes that outcomes are beyond our control.
Plus, it's total BS.
Increase your gross margin by doing one, or all, of the following:
Increase your yields and/or quality
Reduce the costs of your direct inputs (seed, chemical, fertilizer)
Increase realized prices for your crop
Reduce Costs
Beyond the direct inputs as described above, cost control is a major issue on a lot of farms today. It
begins first and foremost with knowing your costs. How much are you spending on equipment, hired
help, fuel, parts & repairs, interest, etc? These are all controllable costs, and if you haven't had a handle
on them to date, the current environment of narrow margins dictate you better get on it soon.
Now I'm not suggesting that you eliminate these costs, because you can't if you want to keep farming.
But knowing where you can "trim the fat" is critical, and it also relates to operational efficiencies.
Direct Questions
Have you limited your view of growth to only "size and scale?"
How many different growth metrics can you identify on your farm?
What is the threshold of your management ability? Have you exceeded it, or do you still have capacity to
expand?
If you reduced each of your controllable expenses by a mere 5%, how much would your net profit
change?
From the Home Quarter
Growth as it relates to business does not purely mean "get bigger." Remember that the purpose of your
business is to increase wealth, and size does not have a direct correlation to wealth. Size is one factor,
but we must not ignore all the others. I believe in the mantra that "better is better before bigger is
better." Growth can manifest itself many ways, and we must examine all ways to grow if we want to
always grow.