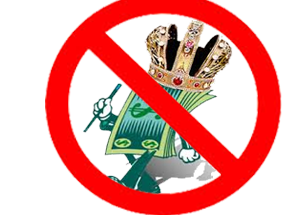 I think this phrase has gained such popularity because of alliteration. The hard "c" in cash just rolls with the word "king."
Let me emphatically disagree with the ideology that cash is king.
One could argue that the king rules all, answers to no one, and has absolute power. While I'm sure that is what the king would have everyone believe, the truth is that kings have always been influenced by the likes of his queen, his advisors, other diplomats, etc. Is he, then, truly the top, unflappable, incontestable?
Since we live in a democracy and are no longer ruled by a king or queen, when I hear such terms I think of cards. The card games I enjoy the most are 3-Spot (also known as Kaiser) and Poker. In both games, the king is soundly trounced by one card that is even greater.
Yes, I'm saying it.
Cash is not King.
It's the ACE!
If cash is king, then that means that something else is the Ace, something else is more important than cash. This is simply not so.
Cash is the ace, the pinnacle, the life blood of your farm.
Imagine how the decisions would be different, the decisions that are made every day and every year on your farm, imagine how they would be different if you had an abundance of cash:
Instead of gambling on trying to time the commodity market high, you could sell your production whenever was most convenient and/or at an appropriate profit point.
You would cease the need for operating credit, vendor credit, or cash advances.
"Cash management" would no longer be juggling between various creditors and hoping you can deliver grain in time to make payments, but instead it would be paying bills on time (ahead of time?) and selling grain when it made the most sense.
Risk management programs would be a non-issue.
Equity loans to recapitalize the business would be a completely foreign concept.
Acquisition decisions (land, buildings, equipment) would be easier, faster, and more empowering.
YOU'D HAVE LESS STRESS!
(That is capitalized for a reason.)
Cash is the Ace. It ranks above precision planting, Group 2 resistance, or the latest technology trends. The Ace outranks the King; it outranks all the other cards.
Direct Questions
Has cash always been your Ace, or have other things become more important?
What are the top three benefits to you and your business if cash was abundant?
How confident would you be to have TWO Aces in your hand?
From the Home Quarter
We often regard agriculture as doing amazing things with scare resources. Cash does not have to be one of those scarce resources even though that has been the mantra for generations (a.k.a Asset Rich – Cash Poor). Assets do not pay bills, cash does. The desire to convert cash into assets needs to be squelched at a time when debts are high, cash flow is tight, and profit margins are narrow.
Since cash is the life blood of your business, and a critical contributor to your financial health, when is the last time you had a checkup?
With your year-end financial statements now done, you're ready for a checkup. Email your financial statements to me and I'll provide you with a financial health report card. Normally a $500 value, this service is free if booked by June 13, 2016.