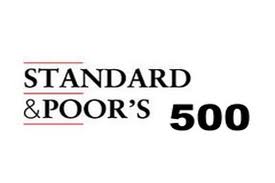 The markets are on a wild ride over the last week. After an elongated bull market, we've seen huge drops in the value of the S&P500, which have created ripples in Canada as well as in foreign markets. Right on cue, we hear investment advisors insist that staying the course and not panic selling is the best thing to do. The markets always go up and go down. After every crisis, brighter days returned which left us to quickly forget how we felt during said crisis.
"This, too, shall pass," I heard an investment advisor say today in the media.
"Markets take the escalator up, but the elevator down," is what I've heard from many commodity market advisors. This also applies to equity markets it would seem.
It must be asked, "Why is the best advice to hold? Why not get out before the market falls any further?"
The answer: because staying in the market is part of your PLAN!
*Anyone getting tired of hearing about planning yet?
If your PLAN is to buy and sell, in other words trying to time the market to maximize return and even "outperform" the market, then you'll probably have to go it alone because no investment advisor would work with you.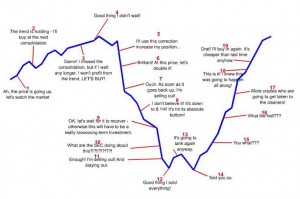 But your PLAN, when beginning your investment activities, was to create wealth from long term growth. If that wasn't your plan, you'd need to be a day-trader; I'm going out on a limb here, but if you're reading this blog, you're probably not a day trader.
Back to your PLAN: jumping in and out of the market looks more like this graphic, because as weak humans we're emotional creatures who make dumb decisions when emotion creeps into the equation.
How does this apply to your business? Have you made emotional marketing decisions in the past? Have you tried to time the market? Read through every point on the graphic; tally up how many apply to you (as in, how many of those have you said in your career?)
Plan for Prosperity
If you find yourself wandering, unsure of how much you might benefit from planning in your business, consider the metaphorical genius found in the children's fairy tale Alice in Wonderland.
When Alice asks the Cheshire Cat, "What road do I take?" his reply is, "Where do you want to go?"
When she says "I don't know," his apt response is, "Then it really doesn't matter (which way you go), does it?"
In essence, what the Cheshire Cat is telling Alice is that "if you don't know where you're going, any road will take you there." There are many different people who have been attributed to that specific statement, so I cannot confirm who said it first. But nonetheless, it applies…to life and to business…to your investment strategy and to your business strategy…
Don't panic, just decide where you want to go.