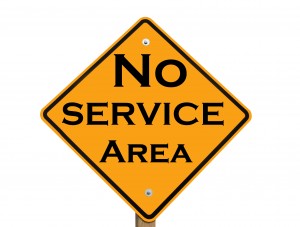 I recently had an experience on my least favorite Canadian airline which was so bizarre that laughter was all I could do in the moment.
The original plan was as follows:
5:50pm Chicago to Toronto;
2.5 hour layover at Pearson, relax, eat, maybe get some work done;
10:55pm Toronto to Regina.
While waiting to board the 5:50pm flight, watching time tick on and on, and even though our plane was at the gate and empty, there was still no one boarding the aircraft at 5:50pm. Yet, the information screen at the gate insisted that our flight was "on time."  I snapped this picture and tweeted it.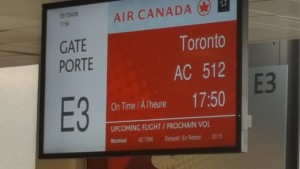 At 5:55pm, an announcement was made: due to runway construction at Toronto airport, our departure from Chicago was being delayed until 9pm. We were instructed to go relax, find something to eat, and come back to the same gate at 8pm. (If you're keeping track, that is a three hour delay which would have us landing in Toronto at 11pm…5 minutes after my flight home was to leave Toronto for Regina. Clearly, I'm not going to make my connection.)
After to speaking face to face with an airline "customer service agent" (you can infer that the quotes are meant to imply sarcasm) I was informed that there were no other flights on other airlines that might get me to Toronto to make my connection. When asked who would be picking up the cost of my hotel room in Toronto since it was clear my connection would be missed, the response was "We (the airline) don't do that. But I can give you a food voucher for here (Chicago O'Hare), just be back by 8pm to board this flight." He hands me a $15 voucher, which was about enough to buy a bottle of water and a piece of gum in O'Hare…
As I begin to circle around to find somewhere to eat, I find myself walking right past my gate, and see a line of people boarding the plane!! The information screen at the gate now says the flight will leave at 6:50pm (If you're keeping track that is 1hr delayed from the original schedule, but a full 2hrs ahead of what was we were told 15 min earlier.) So I board the plane.
Despite the posted 6:50pm departure time, an announcement from the flight deck is made at 7:15pm: "We're just waiting on a few passengers and then we'll push back from the gate. Due to runway construction at Toronto Pearson, we will be unable to reach our gate in Toronto upon arrival. So we're going to push back and sit on the tarmac in Chicago for 1 hour; we can sit on the tarmac here or in Toronto, it really doesn't matter. So you know, it'll be about 1hr from push back to liftoff." I still can't understand why we needed to board just to sit in the aircraft when we could have remained in the terminal and actually had something to eat…
Finally we have inched our way to the runway. Wheels up at 8:10pm. One hour flight to Toronto, plus the time change, and we touch down at 10:10pm. Because it's Toronto, there is 15 minutes of taxiing; we're at the gate at 10:25. I have 30min to clear customs, clear security, and make my connection home. Now if only the 22 rows in front of me on the flight had been courteous enough to let those of us with a connection off the plane first… To their credit, the airline did request that other passengers without a connection remain seated. No one complied.
My legs still ache from being at a dead run, with luggage and wearing a suit coat, for what seemed like a mile despite likely only being half that. My Nexus card allowed me to bypass the 308 people in line at customs (I was at a dead run, no I didn't stop to count them) and thankfully at 11pm, there was no line at security. I am grateful to my fellow passenger coming from Chicago, just as late as I, trying to catch his connection to Montreal. He new where to go to get to our concourse (his departure gate was 2 down from mine.) I would have been lost had I not been following him.
They closed the doors to the jet bridge as I ran up to my departure gate. Through gasped breath, I explained in 2 sentences why I was late (regretfully, I may have used a few expletives.) The gate agent was without a doubt the best person I'd been in contact with from this airline on this day. She let me through, I boarded, and got home as planned.
To Plan for Prosperity
Operational MISmanagement costs airlines millions of dollars and immeasurable goodwill. Just have a look at United Airlines' woes over time… Here are my questions relative to my experience described above:
Runway construction at Pearson did not start unannounced on that day. The airline would have known about it for a long time. Why would we only be notified AT the time of original departure (5:50pm)?
How can a 3 hour delay turn into a 1 hour delay in 15 minutes?
Why rush to board only to sit on the tarmac for an hour before liftoff?
People actually missed that flight, and in my mind it was because the airline told them to come back to board at 8pm but was now leaving the gate by 7:20pm. Part of the delay pushing back from the gate was because their luggage was being removed from the plane. I can't even formulate a question for this, it is so asinine!!
I was likely to miss my connection due to no fault of mine, yet the airline wouldn't offer to pay for my hotel. How much do they value their passengers?
M-I-S is capitalized because if refers to your Management Information System. Your Management Information Systems, whether you've formally addressed them or not, are put to the test as you approach spring seeding. Tracking inventories (seed, fertilizer, fuel, parts, etc.), people (who is operating what & where), and cash (keeping vendors paid, moving grain as required) are all part of your M.I.S. Lose control of one piece of your M.I.S. and see how things are affected.
What are the impacts of seeding too soon, seeding too late, missing a pesticide application window, running out of fuel, or running out of capital…?
You have a system to get your crop seeded, to get it harvested, to manage all aspects of your business in between. It keeps your business running without a glitch, or in the case of a hiccup it provides adjustments to get back on track.
If Air Canada has any sort of "system," it's not working. I'm not sure how they stay in business. They could benefit from a good business advisor…