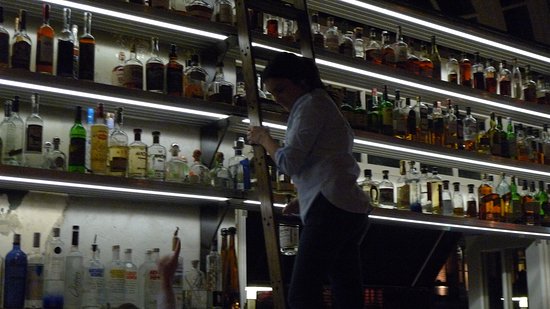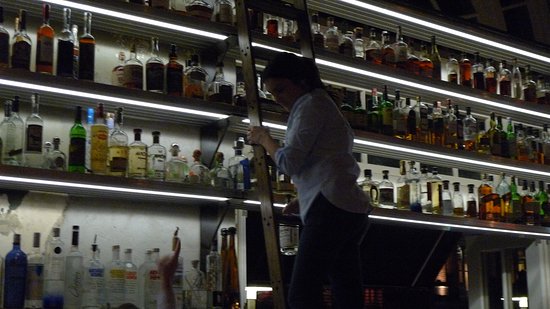 Top Shelf.
It's a phrase best known for describing the highest quality wines, spirits, and liqueurs.  Those who produce such fine beverages are known to maintain unwavering quality in their attention to detail, ensuring that each bottle meets the highest standard for which they've become known. Connoisseurs know which brand is "top shelf" by its reputation.
Same can be said for restaurants. At a client reception, I witnessed great care from our service staff to ensure every order was correct, on time, and to their diner's expectations (even better to be above those expectations.) The entertainment factor was brought into play during desserts when special coffees that donned towering flames were prepared right in front of us. Everyone had a wonderful time, and the tip showed our appreciation.
"Top Shelf" is synonymous with quality. This moniker can be applied to almost anything from cars to clothes to food or to service. We all aspire to enjoy something "top shelf" once in a while.
Of course, top shelf does not matter to all people all the time. Some things in life just need to be economical. Would you pay $5 for a can of "top shelf" soda pop from a boutique brand when you can drink Coke or Pepsi for under $2? It's unlikely you'd get in line to pay premium rates on your electricity bill, and no one would choose to pay $15 per pound for bologna…"top shelf" or not.
The contrast is determining where we will settle for "economical" and where we desire "top shelf." In the commodity business, and yes if you produce grains or livestock you are in the commodity business, it is easy to get into a pattern of "everything economical." This is because you sell the commodities you produce at the lowest price the market is willing to pay that day…because it's commodity! And so, that thinking permeates through your entire business driving you to search for the cheapest option: fuel, fertilizer, parts, insurance, repairs, professional services, etc. You'll notice that equipment did not make that list; somehow equipment remains the anomaly that defies the theory of "everything economical."
Would the management of your business be considered "Top Shelf"? If it was to be rated by experts and evaluated by professionals, how would you measure up? Are you okay with "everything economical", or when it comes to your legacy, your family and your business, should "top shelf" be the minimum requirement?
To Plan for Prosperity
If you deserve "top shelf management" in your business then elevate your skills or seek it out externally. Relentlessly adhere to consistent "top shelf" quality in your management systems, information, and decisions. Recognize where in your business you should be "economical"…but (spoiler alert) it should not be in your management.
Like top shelf booze, you too can be known as a top shelf manager by reputation…if you develop the habit of "unwavering quality in attention to detail" just like those whose product is found on the top shelf.