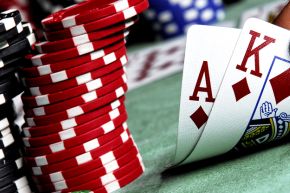 It's been said many times by many pundits that "cash is king." If you are a regular reader of my weekly commentary, you'll know that I am not one who abides by that line of thinking because Cash Isn't King. It's the ACE!
However, GROWTH is King!
Growth is King and Cash is the Ace. What a tandem! It's no wonder that in Texas Hold 'Em poker, an Ace-King is known as "Big Slick."
Recall that growth is not just about size and scale. Growth takes many forms; successful businesses "always grow, and grow all ways."
The misplaced priority is when business pursues growth (expansion) at all costs, when it puts growth (expansion) above cash. I've seen businesses "grow" themselves to the brink of bankruptcy…
In an effort to spread out overhead costs, many businesses are driven to scale up. If rapid expansion is undertaken while in a weak financial position, the business has just been weakened further.
Cash is required to support any expansion plans. Expanding will not fix an insufficient cash position.
To Plan for Prosperity
Expansion plans must be carefully drawn up to ensure sufficient resources are available to support the goal. Expanding with insufficient resources, especially cash, can accelerate the decline of your business.