As we continue our discussion on the many facets of growth (which is about far more than just "size and scale") we will look this week at two types of capital: monetary and human. Here is another look at the graphic which provides the basis of our conversation, which, again, is not an exhaustive list within the conversation of business growth.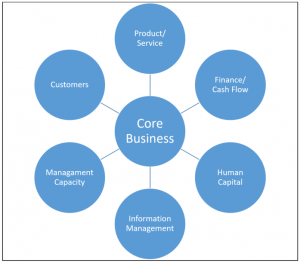 Finance and Cash Flow
One of the first questions I get asked during interviews with prospective clients is usually related to cash flow or financing. As many business experts have written, these are the symptoms not the problems. Before we can understand how cash flow and financing have become an issue, we need to clarify your desired business goals.
Too often, financing is a reaction to a need or to a problem. When financing becomes the reaction to a want is when the business is beginning to create its own problems. "Needs" should be mapped out as part of a business' 3 Year Plan. "Problems" need to be anticipated (as best as possible at the time) so that contingencies can be considered in advance. Reckless management of financing and cash flow hinders growth.
Where does your cash inflow come from? Whether it be from the sale of a product or service, or a little of both, it is important to make this obvious distinction. While it is obvious to you as the owner/manager of your business, is that obviousness directing how you invest your other resources (time, expertise, people, etc.)? At what stage of your sales process do you collect all, or part, of the payment from your customers? Does the timing of your cash inflow match your obligations for cash outflow? Insert financing…
Seeking financing when you are short of cash is reactionary. Because of the time it takes to go through the levels of due diligence that lenders must utilize before granting credit, reactionary
borrowing is challenging for everyone, borrower and banker alike. In general, seeking financing from a position of weakness usually doesn't achieve the desired results.
The appropriate financing strategy can reduce costs (interest, fees, etc.), increase efficiency (pre-approved credit, overdraft protection, etc.), and reduce stress. Does your business have sufficient financing available to not just get you through the next production cycle but more than one production cycle? Is your business "borrowing from Peter to pay Paul?" If so, then cash flow and financing are two exceptional opportunities to seek growth.
Human Capital
We have all heard it before: hire for skill and you will fire for attitude; hire for attitude because you can train for skill. Anecdotal, yes, but incredibly accurate. Some things cannot be taught. Have you amassed a staff of people with the right skills or the right attitude? Ideally, it is both!
More anecdotes?
Middle Manager: "What if we train all our people and they leave us?"
CEO: "What if we don't train them and they stay?"
Investing in your people is a growth strategy that is often overlooked in small business, but is par for the course in large corporations. Many large enterprises have made it a part of the corporate culture to invest in the skills of their employees. As business owners, we are often told that the best investment we can make is in ourselves, and if that is to be true, then the second best would be in our employees. How much training do your people need? Are you paying them fairly based on their experience, skill, and attitude relative to the competitive marketplace? Remember, the soon to be largest segment of the workforce, millennials, are said to place less importance on rate of pay. How are you adjusting your overall compensation strategy?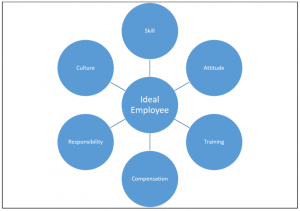 Responsibility and accountability are hallmarks of a great staff member. Most people crave it in their work. Sadly, many small business owners are reluctant to "let go of the reigns." If you have managed to find good people only to wonder why they eventually left, consider how you allowed them to take on more responsibility. If they felt like they were held back, it is no wonder they would seek out a different opportunity elsewhere.
Peter Drucker has been credited as saying "Culture eats strategy for breakfast." This means that even the best planned and executed strategy will fail without the appropriate culture in place. What is the culture in your organization? Is it one of respect and accountability, or is it a culture of mistrust and blame? The way to tell is to observe how people in your business respond during a time of crisis. When observing the behavior and acknowledging the type of culture in your business, remember the culture is an extension of you, as the owner/manager/leader because the culture is either from what you have tolerated or what you have set as an example in your own behavior. But do not despair! A poor culture can be changed, it just takes a lot more work and an incredible amount of consistency.
Plan for Prosperity
This week we touched on the two most powerful growth opportunities in your business: monetary capital and human capital. In reflection, remember these important points:
Manage things. Lead people. Your people are not to be managed, but led. Then watch them perform.
If your leadership skills are lacking, then make an investment in yourself right away. Or relinquish leadership from your duties and hire someone to do it for you.
Get the right people in place before adding property, plant, or equipment. It's far cheaper to be overstaffed for a short time than to under-service clients at anytime.
Acquiring financing from a position of weakness will always be more difficult than during the execution of a strategic plan. Proactive vs. Reactive.
Do not underestimate the impact of the right culture in your business. Spend a little time online reading about corporate success stories from implementing a specific focus on culture. If it can work in a large entity, it can work for you because you are much more agile as a small-to-medium sized enterprise.