Last week, we opened up the discussion on the many facets of growth, and then touched on the many sub-topcis of those different facets. This week, we'll being digging deeper. Here is a graphical reminder of what we started.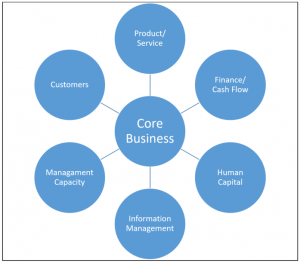 Customers
A foundational rule of the investment advisor world is KYC: Know Your Customer. When I was a part of that world, it was paramount that Know Your Customer protocols were religiously adhered to. The main tenet of this requirement was that an advisor could not offer proper investment advice without first knowing some very important information about their client: age, retirement goals, income, risk profile, and net worth are but a few of the critical details that must be signed off. No exceptions. By offering advice and/or selling investments to a client without proper KYC, the advisor is risking his or her career. Yes, it is potentially that severe.
Who are your customers? What do you know about them? Do you know enough about them to be able to anticipate their needs? Is their business growing? What are their challenges?
Who are your potential customers? What do you have to do to find them, attract them, keep them? This is a lot like dating; pursuing a courtship you might say…
The list of anecdotal evidence as to the importance of customers is long, as is the list of reasons why keeping your existing customers is easier and less costly than constantly finding new ones.
How do you market to your existing clients? Your future clients? Anecdotal, but it is amazing how often you can hear it said from an existing customer, "Oh, I didn't know you had that!" Do your clients know about all the products and services you offer?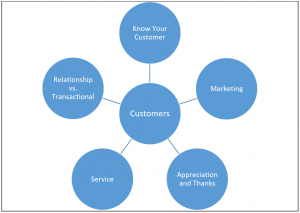 People appreciate being appreciated. Often as simple as a Thank You note, appreciation cannot be undervalued in your eyes. Convert your clients to "raving fans" and they will do your marketing for you by telling others about how good you are. Give them a hat or jacket, and they become a mobile display of your branding.
Service sells. It sells more products. It sells more service. It sells an incredible number of books. Often times it can even sell a crappy product…several times over! Most importantly, service creates loyalty. What are your service standards? Do you have an established procedure for how you provide service?
There are many ways to segment customers, but for this conversation the important distinction we will draw on is whether your customers are relationship customers or transactional customers. One isn't better than the other. Wal-Mart has built a global empire on doing business with transactional customers. Other retailers try to create relationships with their transactional customers by implementing loyalty programs (Ref. Canadian Tire money, PC Optimum Points, etc.) Again, it is not that one is better than the other; what is important is that you know which space you play in. If you are a relationship business but treat your customers as transactional, you are probably losing customers and wondering why. If you are in a transactional business but you treat your customers as relationships, you've probably got incredibly happy and loyal customers which might confuse why your net profit margins are so poor.
To toss out one more anecdote, "Customers are your reason for being in business."
Product or Service
Whether your business deals with products, services, or both, it is best to know what you do best, which of your offerings is most profitable, which is least profitable, and where to dedicate your time. This can only be done with accurate data on business performance (we will discuss more about Information Management in Part 2.)
Where does your product or service fit on the value chain? Do you manufacture from raw materials? Do you retail to the final user? Do you provide logistical solutions? Are you providing ancillary services somewhere along the value chain? Every step in the process is important, some more than others. If the link you occupy can be internalized (consider Wal-Mart (again) which owns its own trucking fleet) or eliminated altogether, taking some time to examine your business' future would be advisable.
How do you market your product or service? Is your marketing reaching the right audience? How do you know? As mentioned above, if any of your current or future customers says, "I didn't know you had/did that!" then marketing offers tremendous growth opportunity!
I cannot recall where I heard it, so if any readers of this post know who said it first, please let me know so I can provide attribution:
"Innovate or die."

-please help me fill in this blank
Any product or service that is not under consistent evaluation for opportunities to innovate will find itself on the trash heap of great ideas/products that failed to keep up! Apple was making a run
 at being the largest company (by market capitalization) in the United States, if not the world, from consistently introducing a new product that was nothing more than innovation to an existing product (which an innovation of a previous products….and on and on…) In this day and age where the consumer has an insatiable appetite for the new & improved, latest & greatest, "give it to me right now"…well, innovate or die takes on a very important meaning.
What is the return you are achieving on the investment you have made in your product or service? Keep in mind, your investment is more than monetary; it also includes time. The time you spend on low profit products or services will leave you less time to invest in the higher profit products and services that you offer. Remember, this time investment must also include family time lost (or otherwise allocated.) Obviously, businesses cannot just ignore anything that does not provide the highest profit, but knowing where your best returns are stemming from will allow you to maximize your return on investment.
Plan for Prosperity
Last week we offered six facets to growth; this week we delved into two of them and provided nine sub-topics, each of them a growth opportunity. By looking into any of these subtopics and leveraging the growth opportunities you have available, can you improve your entire business by 1% this month? If you can do that this month, can you do it every month. An improvement in your whole business of 1% per month means that your business will have grown by 12.68% more than if you had done nothing. That's 12.68% better than you would have done, 12.68% better than last year, 12.68% straight to your bottom line.
Who's ready to get growing?